March 22nd, 2016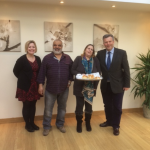 Staff and residents at Dalemead Nursing Home in Twickenham were delighted to receive an early Easter treat this week, of Hot Cross Buns, delivered by Quentin Edgington District Manager for Lodge Brothers Funeral Directors.
Manager and owner Anwar Phul said, 'The residents and staff really enjoyed the Hot Cross Buns. Thank you so much to Quentin and all at Lodge Brothers in Twickenham.'
Photo shows from left to right Sarah Withey, Activities Organiser at Dalemead; Anwar Phul, Owner; Lynn Whittaker, Deputy Manager; Quentin Edgington, District Manager Twickenham.