September 25th, 2012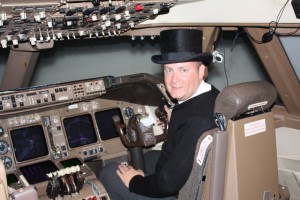 Funeral Director Paul Bye of Lodge Brothers and Wickenden, Northfields Avenue Ealing has just completed a round the world flight using a flight simulator in support of Meadow House Hospice, Ealing.
In preparation for the flight Paul received tuition from Mark Charlwood a Flight technical trainer at British Airways in a £10mil Boeing 747 flight simulator at the British Airways flight training centre at Heathrow where he was kindly hosted by Chris Dowling.
At 10:00 on Friday 21st September, Paul started his epic simulator journey, as he took off from Heathrow on the first of nine legs for his 24,000 nautical mile round the world flight.
The training with British Airways paid off as Paul completed the flight in 46 hours as he flew continuously both day and night and only landed to refuel the plane and himself!
All the drama of Paul's progress and photos from the cockpit en route together with encouragement from followers at Lodge Brothers and Meadow House Hospice were posted on Facebook and Twitter.
So far the event called "The Flight for Life" has raised over £700 for Meadow House Hospice who provide Specialist Palliative Care Service in West London and if you wish to make a donation to support Meadow House you still have time, go to the Flight for Life webpage and donate online, www.justgiving.com/lodgebrothers.
Jacqueline Grove from Meadow House said "how pleased we are that a local business's like Lodge Brothers and Wickenden and Individuals like Paul Bye and his helpers give up their free time to help raise the much needed funds we need to provide our special care".