May 24th, 2012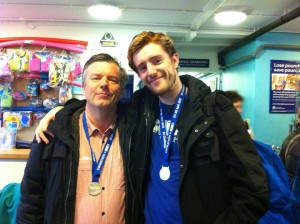 Local funeral director Quentin Edgington, local Hounslow Manager for Lodge Brothers Funeral Directors, recently completed a 5000 metre swim for the Swimathon charity at Hampton open air swimming pool. Quentin was joined on the swim by his son Sam, who was delighted to beat his father by 3 minutes.
Talking about the charity swim Quentin explained "I have supported the Swimathon for many years and I swim at Hampton Pool several times a week. As well as keeping fit I hope to be able to raise over £400 for Marie Curie Cancer Care.
Hampton is a fantastic pool, it is so much better to swim in a heated outdoor pool than an indoor pool. I strongly recommend it to everyone.
Lodge Brothers have been helping and advising families for over 225 years. Today the company is run by six members of the Lodge family (Andrew, Robert, Christopher, Michael, Beverley and Janet) who are the seventh generation of family owned funeral directors.