June 1st, 2015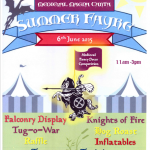 Englefield Green Infant School will be holding their annual Summer Fayre on 6th June, from 11am-3pm.
They are anticipating an attendance of between 500-700 people and there will be a dedicated events arena.
Needless to say this is a big event, and Lodge Brothers of Englefield Green are pleased to be on-board in support of our local community.
Sam Bailey, Fundraising Coordinator for the school, said: "We're a small local school with fantastic children and big, BIG plans for this year, in celebration of the 800th anniversary of the sealing of the Magna Carta, right on our doorstep.
We're hoping there will be both local and national press coverage, so this is an exciting event to be part of!".
All are welcome!