April 21st, 2015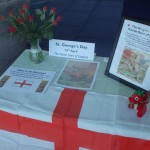 St George, England's Patron Saint, has not been forgotten in Woking!
Pictures, flags, information and red roses (a symbol of England) have been put together as a window display to commemorate St George's Day (Thursday 23rd April).
The eye catching display in Lodge Brothers' window in Woking in ensuring that brave St George is not forgotten by the good people of Woking.