April 16th, 2014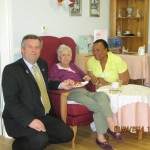 Dora Manning, our Funeral Arranger at Lodge Brothers Feltham, arranged a local Easter Project at Coniston Lodge Nursing Home in Feltham, by providing Hot Cross Buns for the residents.
Janine Guppy said, 'I would like to thank Dora and Quentin for their kind gesture, which has starting off our Easter activities. The residents really enjoyed the Hot Cross Buns.'
Photo shows Quentin Edgington, Feltham District Manager, a Coniston lodge resident and Jannine Guppy Manager of Coniston.