May 21st, 2018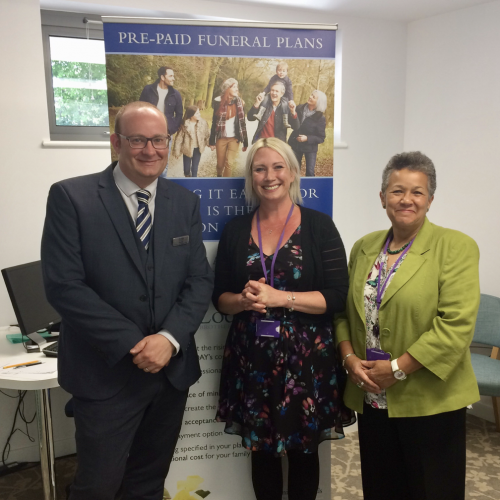 Paul Bye Surrey Commercial & Operations Manager for Lodge Brothers assisted Woking Hospice recently with an event promoting Dying Awareness, a national event designed to get people talking about death and dying.
Paul joined other industry professionals and provided information on funerals, funeral planning and wills to visitors of the hospice and the wider community.
The Dying Matters movement was established in 2009 with a view of helping people talk more openly about dying, death and bereavement and to make plans for the end of life.
Paul said "this has been a really positive day and to be able to answer peoples questions and concerns is always a privilege".
Woking Hospice offered a programme of events throughout the dying awareness week all based in their new Woking Hospice.
Paul Bye is pictured here with Lucie Trussler from Woking Hospice and Mary Morgan a local funeral celebrant and volunteer at the hospice.