June 19th, 2014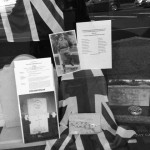 The 70th Anniversary of D-Day was celebrated by Lodge Brothers in West Byfleet with a window display dedicated to the grandfather of a branch client.
William Charles Butler's name is on the war memorial outside the local church in the centre of West Byfleet as he had been in the Salerno landings in Italy with the British and American forces. This was a huge battle and there is now a war cemetery nearby with 2,000 graves. He lost his life in this battle and his grave is there.
The display featured a photo of his headstone and a photo of part of the entrance to the graveyard with the words 'The land on which this cemetery stands is the gift of the Italian people for the perpetual resting place of the Sailors Soldiers & Airmen who are honoured here'.
There was also a copy of his 'Display record of commemoration' and information on the Queens Brigade, 169th London Infantry Brigade (56th London Division) which he served.
A list of all West Byfleet men who died for their country in the Second World War was included too.
Many people passing stopped to read the items and a few came in to pass comment, saying that they appreciated the fact that we were honouring a real local man, someone they could relate to.
All of William's relatives came to see the window and were very proud, taking many photos themselves. It seemed a fitting tribute as the branch were arranging William's son Alan's funeral at the time.