October 1st, 2014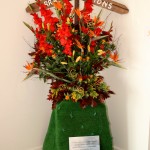 One of our local Churches, Church of the Good Shepherd recently held a "Celebrations Flower Festival" to commemorate 50 years since the Church opened.
Lodge Brothers had pride of place in the foyer and the arrangement had the 1st World War theme.
Canon Nick Aiken thanked Lodge Brothers and Annie Mackender, Funeral arranger at our West Byfleet Office for all her help.