December 7th, 2014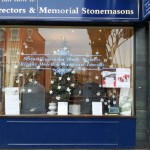 From the 1st December, Lodge Brothers and Wickenden's annual Tree of Remembrance will be available in our branches.
If we have cared for you in the last 2 years you will have been sent some tags. Perhaps your bereavement was more than 4 years ago, or maybe we didn't look after the funeral arrangements for you at your time of loss –  regardless of this, you are very welcome to call in or ring us and we will happily supply you with a tag so that you too can write your own Christmas remembrance message to someone you have lost, and you can come in and pin it to our tree.
We look forward to seeing you again soon.