December 18th, 2014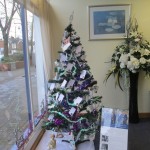 Each year, all Lodge Brothers branches invite clients past and present to come in and write a Remembrance Tag with a message to a lost loved one, which can then be placed on the 'Tree of Remembrance'. This simple act is often of great comfort to the recently bereaved.
Molesey branch Funeral Arranger Carol Disspain explains, "We have had lots of cards with lovely messages on them this year.  Many Molesey residents have popped in to thank Lodge Brothers for providing this focal point for people's grief at Christmas time."
As usual, the tree will be on display until Twelfth Night.