December 18th, 2014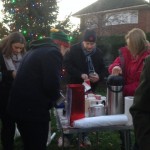 On a cold Saturday afternoon, a small group of hardy souls gathered to celebrate the lighting of the Christmas Tree in the heart of Englefield Green Village.
Chair of the Residents Association, Mrs Joyce Taylor and local vicar Rev Mark Ewbank, were among those who joined the event. A choir from nearby Royal Holloway University led the singing, and refreshments were served by staff from Lodge Brothers Funeral Directors.
Branch Funeral Arranger, Susan Areington and Area Manager, Richard Leachman made tea and coffee for those who wanted it after the event.
£30 was raised and given to the local 'Rendezvous Café' (a part of the local Village Centre) who immediately went out and replaced their recently broken microwave – a simple gesture from Lodge Brothers which instantly met a local need!!