July 9th, 2014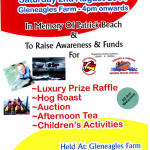 On Saturday 2nd August, a Charity Fun Day is to be held in Stanwell raising funds for two excellent organisations – Portsmouth Lifeguards and Gosport & Fareham Inshore Rescue Services.
Three years ago, local resident, Patrick Beach was tragically killed in the waters off the South Soast, and his mother, Ann, has already raised huge sums of money in his memory.
The Ashford branch of Lodge Brothers made all the arrangements for Patrick's funeral and both arrangers, Sue Pursey and Sandra Nuttall have kept in close contact with Mrs Beach over the years, and are pleased to speak to anyone who would like further details about the upcoming event.
Make it a date in your summer diary!