June 5th, 2015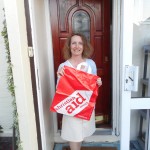 During May, Carol Disspain our funeral arranger at Molesey branch, carried out her annual door-to-door Christian Aid Collection.
On behalf of St Paul's Church in Hook, she delivered then collected Christian Aid envelopes from 150 houses in the area.
This year the total collected was £197.25 which was a very good result.
Christian Aid is an organisation which helps the poorest communities around the world striving to achieve freedom from poverty and "equality, dignity and freedom for all, regardless of faith or nationality."