July 3rd, 2014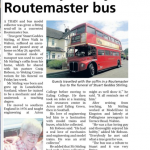 On Friday 20th June, Lodge Brothers in Walton conducted the funeral of Stuart Geddes Stirling, a local engineering enthusiast and model bus & train collector.
His partner Craig Robson thought it would be a fitting send-off for him to make his final journey on a double decker bus!
Lodge Brothers were able to arrange for the converted Routemaster Bus to carry Mr Geddes and his mourning party from his home in River Walk to Woking Crematorium.
Mr Robson commented, "He was a fun loving guy and thoroughly enjoyed his hobby. The bus was a tribute to Stuart and it was very fitting."