November 24th, 2014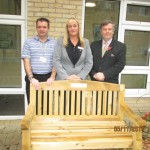 As part of ongoing community support work, Mia Taylor, Branch Arranger at Lodge Brothers Sunbury, is thrilled to have been able to supply a new bench seat for Beechwood Court Day Centre in Sunbury.
Nigel Frost, Manager at the Day Centre said, 'It's fantastic that Lodge Brothers have provided this bench for our residents in our new sensory garden. I would like to thank Mia and Quentin for their support with the project.'
Photo shows from left to right Nigel Frost, Mia Taylor and Quentin Edgington.