September 25th, 2012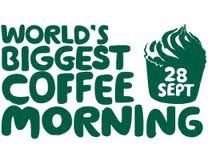 On Friday 28th September from 10am, the Shepherd Bush branches of Barnes & Sons are taking part in the World's Biggest Coffee Morning and they would be delighted if you could join them in support of this worthy cause.
There will be a raffle with all proceeds going to Macmillan, an opportunity to buy a delicious homemade cake plus the opportunity to look around our premises and enjoy an informal chat with a member of staff.
We look forward to seeing you.