April 15th, 2015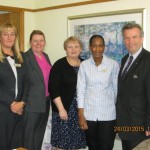 At a recent visit to Ashton Lodge Nursing Home in Sunbury, Quentin Edgington, District Manager of Lodge Brothers, was thrilled to be able to welcome the New Home Manager and Dementia Manager.
'Ashton Lodge is a highly regarded local Nursing Home whose staff we work very closely with, so we are very pleased to be able to welcome the New Managers to Sunbury.' explained Quentin.
Photo from left to right shows Mia Taylor – Funeral Arranger at Sunbury Branch; Angela Cook – Area Relief Arranger; Athena Stevens – Ashton Lodge Home Manager; Charity Shawa – Dementia Manager and Quentin Edgington District Manager Lodge Brothers Sunbury.