June 29th, 2015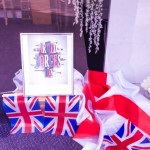 Armed Forces Day was marked yesterday across the country with events in many towns & cities to celebrate servicemen and women.
Quentin Edgington, District Manager at Lodge Brothers, was very pleased by the many comments received in respect of the patriotic window display the staff at Hanworth branch had created.
"Many people came into the branch to comment on how important it is to them that we support our Armed Forces and all the work they do for the country'.