March 16th, 2016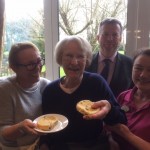 On a recent visit to Ashton Lodge Nursing home in Sunbury, Lodge Brothers District Manager Quentin Edgington surprised the residents with a tasty treat of Hot Cross Buns.
Quentin explained, 'It's always lovely to see the smiles on the residents faces when we arrive with our hot cross buns. For many people it marks the start of the Easter festivities. Everyone was very grateful.'
Photo from left to right shows
Billie Hyman, a resident at Ashton Lodge, Quentin Edgington District Manager for Sunbury and Anne-Marie one of the staff members.