June 25th, 2014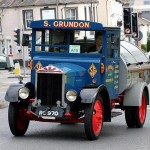 George William Kerbey passed away at Wexham Park Hospital on 6th June 2014 aged 84 years, and Lodge Brothers conducted his funeral service today at St Agnes Church Windsor.
Throughout George's life he had worked hard, first a farmer and then as a dustbin man.
His family said that, "George had worked in dirt all his life" and wanted a fitting tribute to the man he was.
A family connection with Grundon's gave them the opportunity to use a vintage dust cart as a hearse.
The company does not normally offer their vehicles for hire for this type of event, but due to George's family connections and line of work they were able to provide a very different send-off.
The colourful classic vehicle was not what people may have expected. It was a fine tribute to a hard-working man from a family who loved him so much.