July 17th, 2012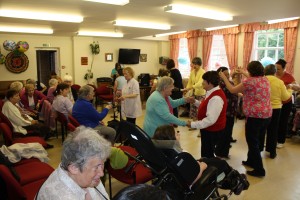 The unusually persistent summer rain showers tried to put a dampener on The Maryville Care Home Summer Garden Party last Saturday 11th July. But event sponsors Lodge Brothers & Wickenden in Brentford, were determined not to let the weather ruin the day, and moved the party inside!
The day had a Country and Western theme, with party food, homemade cakes and a Country & Western Disco for staff, residents and guests to enjoy.
District Manager, Paul Bye, who organised the event, said "It is very pleasing to be able to give back to the community we serve, we have worked closely with Maryville Care Home & Convent for many years, and it is great to see everyone having such fun. I never thought I would add 'organising a party for Country & Western loving Nuns' to my CV!"
Director Beverley Lodge was on hand all day to meet and greet guests, alongside the Brentford office funeral arranger Valerie Perkins who served tea and refreshments to the thirsty dancing residents.