May 23rd, 2014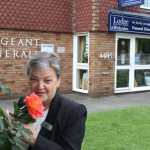 Lodge Brothers & Wickendens Funeral Directors in Brentford are celebrating the first anniversary of their memorial rose garden, which was opened last year on Tuesday 21st May 2013.
Around 30 invited guests came along to the branch last year to sponsor a rosebush. Funds raised by the sponsorships were donated to The Mulberry Centre, a privately funded Hospice based in the grounds of West Middlesex Hospital, which helps people come to terms with cancer.
During the opening service, Rev Derek Simpson, from nearby St Pauls church, offered some prayers and blessings for the families attending, then the memorial plaque was unveiled by Emma Cartwright, the Director of the Mulberry Centre. A cheque for £1,000 was presented, and the occasion was marked with a balloon release.
The garden is now quite established and the roses have flowered several times since planting. Val Perkins from Lodge Brothers & Wickendens Brentford is pictured here with some of the roses.