June 16th, 2014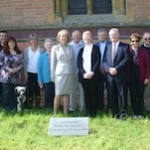 To celebrate the 150th anniversary of Christ Church in Ottershaw, the Reverend Sandra Faccini organised for a time capsule to be buried in the church grounds containing several items of interest from life as it is now.
Adults and children were involved and a special service was held to dedicate the capsule and it's contents.
Ken Ash, Branch Arranger at Lodge Brothers Addlestone asked Sandra if there was anything that he could do to help and it was agreed that Lodge Brothers would supply a stone tablet to cover the capsule showing the date buried and the date to be opened in 2064.
Beverley Lodge (Director) and Bill Wilde (District Manager) attended the placing of the tablet along with several members of the church and were thanked for their donation from the company by the Reverend Sandra Faccini
It was pointed out by Bill that he could not guarantee that he would be around for the re-opening of the capsule, however, the children who will be in their retiring years in 2064, will have their memories from the 150th Anniversary.
Pictured are Beverley Lodge, Bill Wilde and the Reverend Sandra Faccini with members from the church.